Karate Course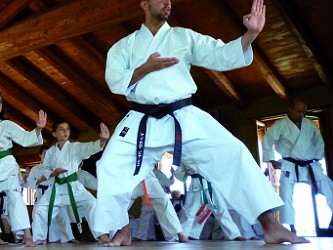 Mind, spirit and heart to grow together.
Children 4/5 years: this course, reserved to smaller children, aims to develop the knowledge of their body through exercises and fun activities. Great importance is given to dynamic psychometric paths to sharpen basic gestures like running, jumping, upside down, pull, throw, etc. All the above is integrated with some fundamental techniques of Karate.
Primary school children 6/10 years: from 6 years the child may start studying karate by a more technical point of view. Of course, the initial approach to the discipline will take place through games, turning over time to the actual technique. At this age, particular attention is paid to the development of self-confidence and ability.
The course of Karate at the Montessori Bilingual School is held by Maestro Federico Sangiorgi, who leads the Sports Association Airone Bianco, which aims to convey Karate as a sport and an educational tool.
The student learns by the teacher and the teacher learns from the student.
Frequency and duration: once weekly, 55′
N° annual lessons: 30
Timetable: 4.00 p.m
Calendar: beginning of October 2016 – end of May 2017
Groups: min. 4, max 10 participants. (Pre School), max 15 (Primary School)
Course fee: € 520 (including VAT)